Data Center Colocation
Per U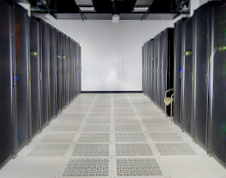 All per U offerings are provided with all of the same base benefits as a full rack, on a more economical scale.
InfoBunker provides new fully-secured, shared, colocation racks to our data center clients with complete package rates that start at $99 per month including bandwidth. This solution provides convenience, security, connectivity and power control in one compact and very reliable solution.

The convenience of our clients is core to our business, so to alleviate the stress of tight access to the equipment we supply both front and rear access with plenty of walkway space within the data center, and have private workrooms available in which to service your equipment at no additional cost. Redundant paths provided by dual top-of-rack switches provide consistant and stable bandwidth. Remotely managed power outlets are provided for each server as well allowing for a maximum of convenience.
Standard Colocation Features:
Rack Space

Customer Portal with Bandwidth and Power Monitoring
24" grounded and bonded aluminum raised floor
42U Custom Lockable racks
Gigabit uplink to core

Network

10 Mbit/s Dedicated Unmetered Burstable Cogent Internet
5 IP's

Power Features

One 2A 120V or 240V 1A Circuit Included with Each U
Managed outlets on APC Power Bar
Redundant Available Power
N+1 UPS and Generator Power
Power available in 120V and 240V

Options

Additional managed outlets
Additional power
Additional bandwidth
Redundant switch
Additional IP's
Please Contact Sales for Further Details