Data Center Connectivity
The InfoBunker data center network and connectivity services have been designed to give your business access to multiple service providers while providing you with the redundancy and capacity needed to scale your business. In Iowa InfoBunker offers direct access to Cogent, Century Link, Windstream/Paetec and ICN. InfoBunker also has access to 360 Networks, AT&T, Norlight Communications, Verizon, FiberLink, Mediacom, and INS for all of its colocation and hosted clients.

Our connectivity comes via a total of 192 strands of fiber that enter the data center from four compass points as well as an independent, separate fiber route that is fully owned and managed by InfoBunker. Our private fiber provides a back haul to the Des Moines telecom hotel for private client traffic. Using DWDM systems, private gigabit point to point or OC level connectivity is available to all clients and carriers.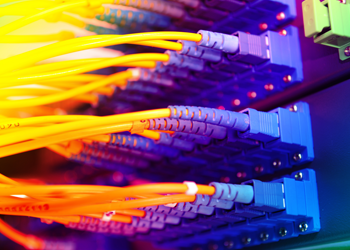 Private Suite
Multiple Gigabit links to multiple cores for highest level of redundancy
Inter-Suite and Suite to Rack connectivity available via Fiber, Copper, or VLAN
Secure Racks – Colocation Data Floor
Standard with 1 Gigabit link
Optional 2nd link and switch for minimal monthly fee
Rack to Suite and Rack to Rack connectivity available via Fiber, Copper, or VLAN
Internet
All racks and rooms include 10Mb/s of Cogent bandwidth and a 1 mbit connection to our Blended BGP bandwidth for network KVM management ports
Blended BGP bandwidth is an aggregate of all providers insuring best route to host and optimal fail-over ability should a provider or route fail or undergo maintenance. Blended bandwidth is provided at 100% uptime guarantee
Cogent Direct is dedicated Cogent bandwidth only, minimum 10 Mb/s
ICN cross-connects free of charge to qualifying agencies
All clients receive up to a full class C IP block as needed. Additional class C's are available for a monthly fee
Full support for IPv4 and IPv6
InfoBunker's "NEVER OVERSOLD" guarantee: We will NEVER oversubscribe bandwidth. You get every megabit you pay for, all the time, every time. Contingent availability does not equal continuous availability!