Data Center Topology
Network
For both its colocation and hosted clients, InfoBunker uses some of the most robust network systems available today, utilizing Nortel (Avaya) and Juniper Telecom-grade hardware and has exceeded 7 9's uptime for our data center clients.

Multiple dedicated fiber routed from diverse compass points & diverse providers ensure continuous availability and up-time to our data center clients. A total of 192 strands of fiber enter the building from 4 compass points.

An independent separate fiber route is owned and operated fully by InfoBunker. This fiber provides a back haul to the Des Moines Iowa telecom hotel for private client traffic. Using DWDM systems InfoBunker is able to provide private gigabit point to point or OC level connectivity to its clients and carriers with minimal extra cost.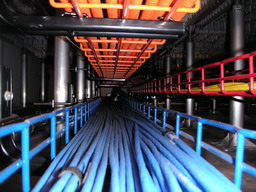 Connectivity within the data center is offered in the form of Gigabit copper and fiber below the floor to the rack. Private data center suites are connected by fiber or copper secured in reinforced conduit. Multiple telecom-class routers and switches allow us to guarantee client uptime and segregate traffic from harmful activities. The switch can be partitioned for the clients needs and may be cross-linked with a duplicate core on an alternate feed.
In the event of primary switching failure, crossover is achieved in an average of 2 milliseconds to prevent clients from experiencing any downtime. The alternate switch feeds from a redundant network on separate routers, switches and providers.