Data Center Colocation
Racks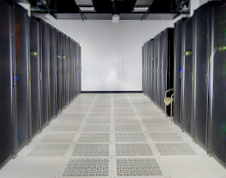 InfoBunker provides new fully-secured colocation racks to our data center clients with complete package rates that starts at $850 per month including bandwidth. This solution provides convenience, security, connectivity and power distribution in one compact and very reliable solution. All services to the data center raised floor are delivered under floor for safety as well as stability of the infrastructure.

The convenience of our clients is core to our business, so to alleviate the stress of tight access to the equipment we supply both front and rear access with plenty of walkway space within the data center, and have private workrooms available in which to service your equipment at no additional cost.
Connectivity to all data center colocation racks are standard Gigabit fiber to the top of rack switch. Connected to this is an enterprise class managed gigabit switch, which allows us to guarantee client uptime and segregation from potentially harmful activities as well as near instantaneous recovery from any device outage. The switch can be partitioned for the clients needs and can be cross-linked with a duplicate switch on an alternate path. In the event of primary switching failure, crossover is achieved in an average of less than 200 milliseconds in order to prevent clients from experiencing any downtime. The alternate switch feeds from a redundant network with separate routers, switches and providers. Additional fiber and ethernet drops are also available for a nominal fee. This network can be extended to the Des Moines Iowa POP if needed.

Power distribution is one of the most critical items in a data center computing enviroment, so to provide ultimate uptime InfoBunker has standardised on the Symmetra UPS systems. In response to customer requests for convenience and function we offer standard with our racks one of a number of APC master switch PDU's. This power strip allows authorized clients to hard-reset systems remotely - eliminating the opportunity for someone to accidentally reset the wrong server. With the data center industry seeing higher densities of power and heat from denser 1U and blade servers, InfoBunker has designed all of its colocation racks to easily handle a minimum of 5Kw per rack. Data center densities of over 10Kw per rack are achieveable with a minor surcharge and densities exceeding 30Kw per rack are possible.
Standard Colocation Features
Rack
Customer Portal with Bandwidth and Power Monitoring
24" grounded and bonded aluminum raised floor
42U Custom Lockable racks
Gigabit uplink to core
Network
1Mbps of BGP blended bandwidth
10mbits Dedicated Unmetered Burstable Cogent Internet
1 Class C IP allocation
Power Features
One 20a 120v or 240v 10a Circuit Included with Each Rack
Manageable 3 Circuit 24 Port Networked APC Power Bar
60 Amps Redundant Available
N+1 UPS and Generator Power
Power available in 120v and 240v
Options
Additional manageable power bar
Additional power circuits
Additional bandwidth
Redundant switch
Additional IP's
Please Contact Sales for Further Details