Recovery Space
Disaster Recovery / Business Continuity Services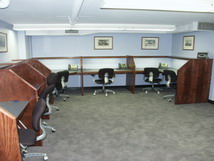 Disasters and outages can have a profound effect on both reputation and revenue. A solid disaster recovery (DR) plan must go beyond in-house backups and include off-site storage in a secure, resilient data center. This gives your company the ability to recover quickly from small or catastrophic losses and outages. Business continuity (BC) usually involves more aggressive plans to avoid interruption altogether with solutions that enable immediate fail-over of critical data center applications.

Business Continuity and Disaster Recovery planning are now a requirement for most businesses and governmental organizations. Regulatory compliance is a must, but even more so, your company needs to ensure & maintain your competitive edge.

InfoBunker provides more than just colocation and hosting, we also offer dedicated disaster recovery and DR-testing seats for our clients. Rather than offering monthly 'per seat' DR spaces (usually on a first-call first-served basis), InfoBunker does not charge for our seating until the space is actually used by the client. The cost is then a per-seat, per day charge. Your company does not pay for services it is not using. Further, catered meals delivered right to the site are included as part of the DR service, so your techs need not leave the facility for meals that can waste valuable recovery time during a crisis.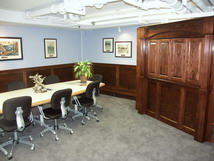 Amenities include:
Three Recovery Suites, 30-Person Capacity
Phones, Network Jacks & Internet Available at Every Workstation
Full Conference Room with 42" Display for Meetings or Video Conferencing
Full Kitchen, Break Room and Shower Facilities
Ample On-Site Parking for All Staff